Dental Clinics
»
Louisiana
»
Lake Charles Dental Clinics
SWLA Lake Charles Dental Clinic
Contact Details
---
2000 Opelousas Street
Lake Charles, LA - 70601
337-439-9983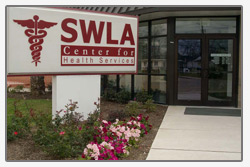 Provides dental clinic services.
Hours:
Mon/Wed/Thur - 8:00 am to 5:00 pm
Tues - 10:00 am to 7:00 pm
Fri - 8:00 am to 12:00 noon.
SWLA Center for Health Services is a 501(c)(3) community-based organization providing preventive and primary health care for the entire family regardless of their ability to pay using a sliding fee scale. We also welcome Medicare, Medicaid, private insurance and self-pay patients.
Please contact the dental clinics themselves to confirm that the hours and/or services have not changed.
Have you visited SWLA Lake Charles Dental Clinic?
Let us know about your experience by using the form below.