AC Dental Hygiene Clinic - Amarillo College Dental Clinic
6222 West Ninth Street
Amarillo, TX - 79106

Email Address
Not available
Web address
Twitter address
SEE ALL DENTAL CLINICS IN AMARILLO
AMARILLO DENTAL CLINICS
Your opinion matters. Be the first to make a review.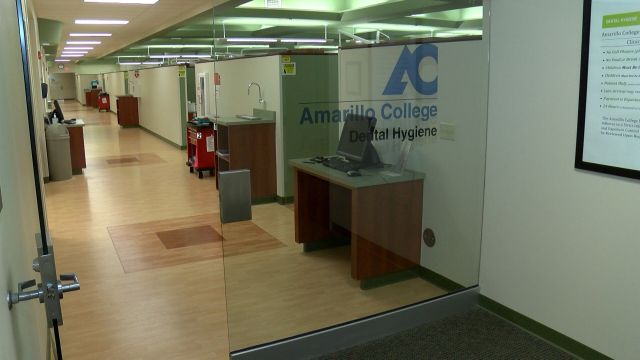 Did you see a problem with this listing?
Services are provided by the students of the Dental Hygiene Department and are limited to preventive dental procedures.

Services include:

Medical History Review and Vitals
Dental prophylaxis (teeth cleaning and polishing)
Quadrant Scaling and Root Planing (deep cleaning)
Periodontal Maintenance Therapy
Oral Cancer Screening
Nutritional Counseling
Oral Hygiene Education (home care plan for plaque control)
Tobacco Cessation
Topical Fluoride Applications
Desensitizing Treatment
Sealants
Dental X-rays

Clinic rules and details

Clinic hours may change each semester
Treatment is by appointment only
Screening appointments are usually 1-2 hours long
Cleanings take 2-5 visits on average; each visit may be 3-4 hours long
Referrals will be given for additional dental work needed
Clinic fee is $35 to be paid at the time of your initial appointment
For patients requiring a deep cleaning (periodontal therapy) there will be an additional fee of $35
Payment may be made by credit card, debit card, cash, or check
We do not accept dental insurance
Services are free to AC employees and AC students with valid ID.

Questions To Ask Your Dentist

How am I expected to pay?
What are the costs for services. Is this discounted or based on income?

What Documents am I required to provide?
Do you need me to provide income statements in order to verify discounts, mail to provide residency?

How are the instruments sterilized?
Heat sterilization is very important for all instruments. If you are not comfortable with their answer, you can choose another office.



User Questions & Answers
AC Dental Hygiene Clinic - Amarillo College Dental Clinic Crowd Sourced Rates
Finding dental costs for procedures is difficult. We created this section so users of our website can see what others have paid for dental treatment at AC Dental Hygiene Clinic - Amarillo College Dental Clinic.

No dental services rates have been added. Be the first to add a price for services!


Do you know how much AC Dental Hygiene Clinic - Amarillo College Dental Clinic charges for services?
Attention
We cannot guarantee the dental costs to be completely accurate. They are displayed for informational purposes for our users. We have compiled prices provided by users and online research. In order to obtain actual costs please contact AC Dental Hygiene Clinic - Amarillo College Dental Clinic directly.
SEE ALL DENTAL CLINICS IN AMARILLO
AMARILLO DENTAL CLINICS
---
Frequently Asked Questions