Cambridge Dental Center
503 A Muir Street
Cambridge, MD - 21613

Office Hours
Monday

7:30 AM – 7:00 PM

Tuesday

7:30 AM – 4:30 PM

Wednesday

7:30 AM – 4:30 PM

Thursday

7:30 AM – 7:00 PM

Friday

7:30 AM – 4:30 PM

Saturday

Closed

Sunday

Closed
Email Address
Not available
Web address
SEE ALL DENTAL CLINICS IN CAMBRIDGE
CAMBRIDGE DENTAL CLINICS
Your opinion matters. Be the first to make a review.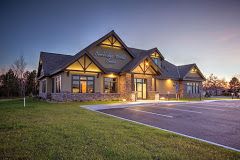 Did you see a problem with this listing?
Office Hours:

Tuesday 7:30 AM – 4:30 PM
Wednesday 7:30 AM – 4:30 PM
Thursday 7:30 AM – 7:00 PM
Friday 7:30 AM – 4:30 PM
Saturday Closed
Sunday Closed
Monday 7:30 AM –7:00 PM

(CCHS) is a private, non-profit community health center providing primary health care services in Caroline, Dorchester, and Talbot Counties and the surrounding areas. CCHS health centers provide a full range of primary medical, dental, and behavioral health services. CCHS is a participating provider with most major insurance companies and HMOs. In addition, a sliding fee scale is available for any patient without insurance.

As a community health center, CCHS is able to use federal funding to expand current services and develop new programs to meet the health care needs in our area.

Dental
Within the CCHS mission of providing quality health care for all, the CCHS Oral Health Program desires to assure appropriate oral health care for all.
Because of limited capacity and high demand for services the dental program prioritizes access to care for residents of the Mid-Shore: who are covered by Medical Assistance or are without insurance; are under 20 years old; women who are pregnant; and patients with medical conditions referred by their primary care physician for whom dental care is critical to the management of their health condition.

The program is also available to individuals experiencing acute dental problems such as severe pain, fever, swelling, or recent injury. Access to emergency care is provided on a walk-in, open access basis.
About our Dental Facilities:
   
Equipped with state of the art dental suites
    Staffed by licensed dentists, dental hygienists, dental assistants and support staff
  
  Focused on children who are uninsured or enrolled in HealthChoice. At this time, due to the tremendous need for oral health services in the area, adult patients will only be seen for dental emergencies or by referral from their medical provider
   
Partners with local community agencies (schools, health departments, Head Start, social services, and many others) to improve the community's health
   
Collaborates with Shore Health System, and Eastern Shore AHEC to provide hospital-based rehabilitative and restorative services for children. The organizations are members of CROC - Children's Regional Oral Health Consortium
Services available:

-DENTAL EXAMINATIONS
-CLEANINGS
-X-RAYS
-DENTAL SEALANTS
-FLUORIDE
-FILLINGS (INCLUDING TOOTH COLORED)
-ORAL SURGERY-EXTRACTIONS
-ROOT CANALS
-DENTURES
-COORDINATION OF HOSPITAL-BASED SERVICES
Questions To Ask Your Dentist

How am I expected to pay?
What are the costs for services. Is this discounted or based on income?

What Documents am I required to provide?
Do you need me to provide income statements in order to verify discounts, mail to provide residency?

How are the instruments sterilized?
Heat sterilization is very important for all instruments. If you are not comfortable with their answer, you can choose another office.



Cambridge Dental Center Crowd Sourced Rates
Finding dental costs for procedures is difficult. We created this section so users of our website can see what others have paid for dental treatment at Cambridge Dental Center.

No dental services rates have been added. Be the first to add a price for services!


Do you know how much Cambridge Dental Center charges for services?
Attention
We cannot guarantee the dental costs to be completely accurate. They are displayed for informational purposes for our users. We have compiled prices provided by users and online research. In order to obtain actual costs please contact Cambridge Dental Center directly.
SEE ALL DENTAL CLINICS IN CAMBRIDGE
CAMBRIDGE DENTAL CLINICS
---
Frequently Asked Questions
Closest Area

Dental Clinics