Park Place Health and Dental Clinic
606 W. 29th Street
Norfolk, VA - 23508

Office Hours
Monday

8:00 AM - 4:30 PM

Tuesday

8:00 AM - 4:30 PM

Wednesday

8:00 AM - 5:00 PM

Thursday

8:00 AM - 4:30 PM

Friday

8:00 AM - 4:30 PM

Saturday

closed

Sunday

closed
Email Address
Not available
Web address
Facebook address
SEE ALL DENTAL CLINICS IN NORFOLK
NORFOLK DENTAL CLINICS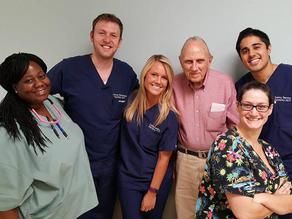 Did you see a problem with this listing?
Park Place Health & Dental Clinic, Inc. is a 501 (c) (3) company that seeks to serve the dental needs of adult citizens of the city of Norfolk, Virginia.

Provide excellent Dental care in the areas of extractions, fillings and cleanings to the homeless, low-income and underserved residents of the city of Norfolk.

Park Place Health & Dental Clinic seeks to be a positive impact in the community through dental services and community involvement.

Located in the Park Place Multi-purpose Community Center.

Open 5 days Weekly:

Monday 8:00 AM - 4:30 PM
Tuesday 8:00 AM - 4:30 PM
Wednesday 8:00 AM - 5:00 PM
Thursday 8:00 AM - 4:30 PM
Friday 8:00 AM - 3:30 PM

Weekly Night Clinic Hours:

Monday - Extractions - 5:00 - 8:00 PM
Tuesday - Extractions - 5:00 - 8:00 PM
Thursdays - 5:00 - 8:00 PM
Fillings - 1st & 3rd Thursdays
Extractions - 2nd & 4th Thursdays
Fillings - 5th Thursday

The Clinic provides no-cost services in dental extractions, restorations (fillings) and hygiene (cleanings).

Dental Staff consists of local Volunteer Professional dentists, hygienists, Dental Assistants and Nurses who provide excellent care

What YOU need to bring to the Eligibility Screening:

PPH&D Clinic uses an Eligibility Screening system that will take no more than 15 - 20 minutes once you get into seeing the screeners. Eligibility Screening is on Mondays starting at 8:00 AM. This involves coming to the Park Place Multi-Purpose Center and then sitting in the lobby and going through the screening process.

Appointments are on a first come, first serve basis.

Eligibility screenings can occur during the rest of Mondays and early Tuesdays but the number of available appointments gets limited as Monday and Tuesday fills up.

Remember appointments cannot be made by phone and are first come, first serve.

Eligibility requirements:

Proof of Norfolk Residency:

1. A current lease with your name and address that shows current and valid dates
2. Rent statement within 30 days with your name and address
3. A piece of mail that is not junk with your name and address on it within 30 days (post marked on dated on the mail)
4. If a resident of a local shelter program, then a letter from the program on their letter head stating the time and date you have been staying with them and for how long.

Proof of Household Income:

1. 2 most recent pay stubs if paid by-weekly or 4 most recent pay stubs if paid weekly
2. Most current SSI or Disability award letter for the current year
3. SNAP Benefit award letter still valid
4. If no income, than a W-6 from the employment commission on Virginia Beach Blvd

We need all the income of the individuals claimed on your taxes in order to qualify your income for services.

Picture ID:

Third, you need to bring a valid picture ID. This could easily be a current, non-expired Driver's License or a valid ID card.


Questions To Ask Your Dentist

How am I expected to pay?
What are the costs for services. Is this discounted or based on income?

What Documents am I required to provide?
Do you need me to provide income statements in order to verify discounts, mail to provide residency?

How are the instruments sterilized?
Heat sterilization is very important for all instruments. If you are not comfortable with their answer, you can choose another office.



User Questions & Answers
Park Place Health and Dental Clinic Crowd Sourced Rates
Finding dental costs for procedures is difficult. We created this section so users of our website can see what others have paid for dental treatment at Park Place Health and Dental Clinic.
Park Place Health and Dental Clinic Dental Service Rates As Posted By Users And Research
| Date Added | Cost | Service | How Know Rate? |
| --- | --- | --- | --- |
| Jun 27, 2018 | $25 | | I am the Director of this |
Do you know how much Park Place Health and Dental Clinic charges for services?
Attention
We cannot guarantee the dental costs to be completely accurate. They are displayed for informational purposes for our users. We have compiled prices provided by users and online research. In order to obtain actual costs please contact Park Place Health and Dental Clinic directly.
SEE ALL DENTAL CLINICS IN NORFOLK
NORFOLK DENTAL CLINICS
---
Frequently Asked Questions
Closest Area

Dental Clinics