Southside Dental Clinic
4243 4th Ave. S.
Minneapolis, MN - 55409

Email Address
Not available
Web address
SEE ALL DENTAL CLINICS IN MINNEAPOLIS
MINNEAPOLIS DENTAL CLINICS
Your opinion matters. Be the first to make a review.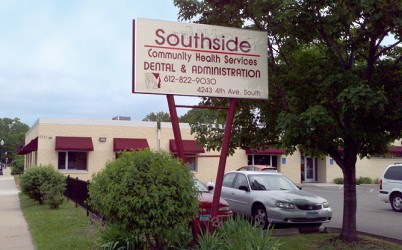 Did you see a problem with this listing?
Mon, Wed: 7:00 am to 8:00 pm

Tues, Thurs: 7:00 am to 5:00 pm

Fri: 7:00 am to 4:00 pm

General Information
Call to schedule an appointment
Walk-ins are very welcome.
Our staff is available by phone if you are unsure if you need an appointment or if you have other questions about your health after hours.

Our dentists are concerned about you, not just about your teeth. We work hard to make your visit to the dentist a positive experience.

Preventative Care
Dental exams
Cleaning
Instruction/Education
X-Rays
Sealants
Fluoride
Restorative Care
Fillings Extractions
Root Canals
Crowns/Bridges
Dentures/Partials
Referrals
Patient Support Services
Transportation
Help with insurance

Southside Community Health Services accepts private insurance, General and Medical Assistance, Minnesota Care, all Minnesota Public Health Plans, and payments on a sliding fee schedule based on income for those who qualify. Our sliding fee discount is available based on federal poverty guidelines of family size and income. Please call 612-822-9030 for further details regarding eligibility requirements.

Some insurers and health plans require that you choose a primary clinic in order for services to be covered. Check with your health plan to ensure that your visit to our clinic will be covered, and please bring your insurance card to every visit.
Questions To Ask Your Dentist

How am I expected to pay?
What are the costs for services. Is this discounted or based on income?

What Documents am I required to provide?
Do you need me to provide income statements in order to verify discounts, mail to provide residency?

How are the instruments sterilized?
Heat sterilization is very important for all instruments. If you are not comfortable with their answer, you can choose another office.



Southside Dental Clinic Crowd Sourced Rates
Finding dental costs for procedures is difficult. We created this section so users of our website can see what others have paid for dental treatment at Southside Dental Clinic.

No dental services rates have been added. Be the first to add a price for services!


Do you know how much Southside Dental Clinic charges for services?
Attention
We cannot guarantee the dental costs to be completely accurate. They are displayed for informational purposes for our users. We have compiled prices provided by users and online research. In order to obtain actual costs please contact Southside Dental Clinic directly.
SEE ALL DENTAL CLINICS IN MINNEAPOLIS
MINNEAPOLIS DENTAL CLINICS
---
Frequently Asked Questions
Closest Area

Dental Clinics